Due to ongoing construction of the 3rd Street bridge, we are unable to rent kayaks for the 2020 season.
Please check for 2021 rental updates. We look forward to seeing you!
Kayak with Friends and Family
Enjoy the peaceful Lake George with your friends and family, in either single or tandem (double seated) kayaks. No Wake makes every trip enjoyeable and undisturbed. Ages 18+ and minors (10+) must be accompied with an adult.
The Outdoors Are Reasonably Close
Beautiful scenery and easily accessible: Kayaking on Lake George is a quick get-away tucked right in your backyard. With three parks accessible from the lake, and pier access to downtown, you can always take a break and visit downtown Hobart for a quick bite to eat.
Safety in Mind
Kayaking on Lake George is brought to you by the folks at Lake County Divers Supply. We specialize with safety in mind, and have spared no expense in keeping our patrons safe in and on the water. Each kayak is provided with the proper equipment
Weather Permitting
It's best not to be out on the lake when a storm rolls in, and unfortunately that can put quite the hamper on a day planned for a trip on the water. Should weather conditions clear up quickly, we will resume rentals as deemed suitable. We will suspend kayak rentals, under the following conditions:
– Thunderstorms/Rain
– High-level Water
– Flooding
For current status: Call Us by phone at (219) 942-0016.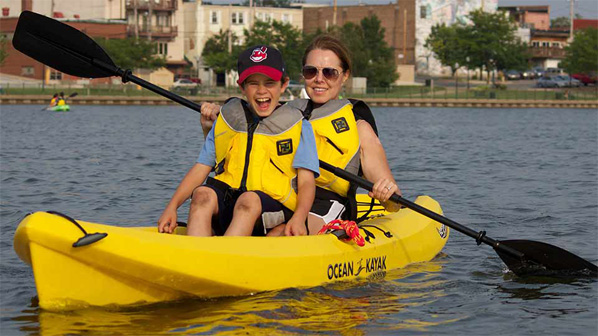 Rental Info
Simply call ahead to reserve your kayak and to guarantee availability. Payment can be made at the time of rental at LCDS. Cash and credit cards accepted forms of payment. Please have a valid ID at the time of rental.
Lake Hours
Weather Permitting
Monday-Friday
09:30 A.M. – 05:00 P.M.
Saturday-Sunday
10:00 A.M. – 05:00 P.M.
After 2 on Sat. & all Sun.
Please go straight to the Lake
North of the Clocktower
Pricing
Singles
1 Hour – $25
2-3 Hours – $40
Tandem
1 Hour – $30
2-3 Hours – $55
Kayak, paddle, life jacket and whistle all included in price.
Giving Back to the Community
Lake County Divers Supply has been a apart of downtown Hobart for over 35 years. We understand that there's a need for fun and inexpensive activities for the Northwest Indiana region, especially something that keeps people active.
Thanks to the wonderful people of Hobart, we have been given the opportunity to provide an incredible experience for people of all ages. We hope you'll enjoy being on Lake George as much as we do, and our community looks forward to see you out there with us! Paddle on!